Current Market Pricing
Information courtesy of AFSC Commodity Prices. For historical data please see links below.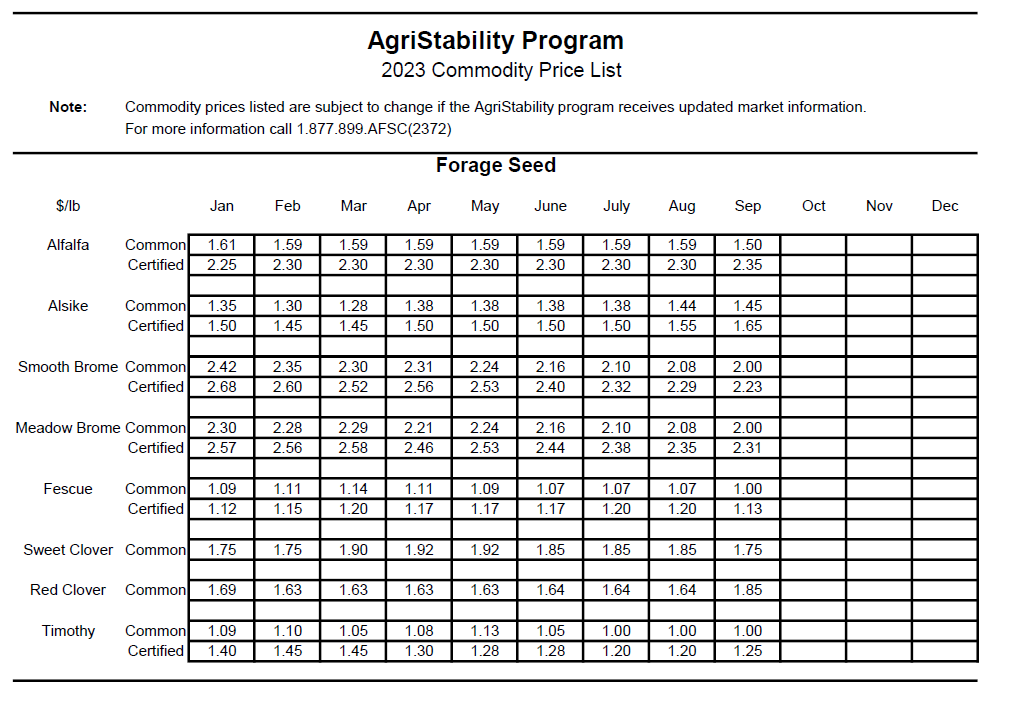 Current and historical market pricing prepared by David Wong, can be found in the documents listed below:
2023 Market Pricing
Historical Market Pricing
Market Perspective
The Canadian forage seed market is small in comparison to markets for other farm commodities. It is a less structured market. Typically, prices are established on a "bid" and "offer" system, with sellers and buyers checking offers and bids by other growers or buyers. Although market and price information can be lacking it is available. Canadian companies provided prices for most forage seed species, however, quotes can vary depending on the company, time of year, and market conditions (supply/demand).
General principles of supply and demand work in the forage seed marketplace. To alleviate potential marketing problems, the marketing of turf, grass and legumes seed in Canada has 4 marketing options available to growers. The marketing alternatives are: direct seed sales, contracts, brokered sales and farm gate sales. (Excerpts from Forage Seed Marketing)
Dave Wong, retired Market Specialist with Alberta Agriculture, has compiled many market summaries and market perspectives over the years. Here are a few examples from recent years.
The Changing Market Place
Historical price information is available for the most commonly grown turf, forage and legume seed crops of Alberta. Prices provided are yearly averages, and reflect prices given to growers. Dave Wong from AAFRD has compiled Individual graphs of historical prices for creeping red fescue, smooth bromegrass, timothy seed, alfalfa seed, sweet clover, red clover and alsike clover.
World trade of forage grass seed, turf grass seed and legume seed revolves around 5 major players. The USA is by far the largest producer and exporter of grass and legume seed in the world. This followed by the EU15 as a whole, then Canada. New Zealand follows. The only other nations of significance are the Argentina and the Czech Republic, which has now joined the EU25.
The majority of trade is in turf grasses (perennial ryegrass, annual ryegrass, tall fescue turf varieties, Kentucky bluegrass and the fine leaved fescues. Direct subsidized to grass species in the EU have been taken off, but now the marketplace will play a major role in European growers decisions to grow grass/ legumes seeds.
The marketplace has also changed. No longer do end-users obtain supply in advance. Buyers have moved to a "hand-to-mouth" approach. This has forced growers to hold onto their production longer, thus becoming the storage component of the marketing wheel. In the grass/legume seed business, growers must decide quickly when and which crop to grow, which may also mean quicker movement of growers into and out of grass seed production.